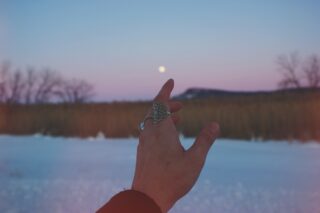 2021 is totally a new beginning for all of us and I decided to start it with this blog. Last year was a hard one… and going through the Coronavirus pandemic helped me to grow in a lot of different ways. I also experienced a lot of new deep feelings as anxiety, depression, loneliness and unhappiness. Actually, I had never imagined that I was going to feel this way about life. Basically, I felt lost in my journey… and sometimes I felt that I didn't have any solution.
To introduce myself a bit, my name is Paulina Mas, Costa Rican girl living in Québec, Canada. I am a veterinarian enrolled in an internship program in the Veterinary Teaching Hospital of the University of Montreal. Currently I am applying to surgery and dentistry residency programs for next year to become a specialized veterinarian in the future (after 3-4 more years of study). And well, all this to say that when the lockdown started I went through a lot of insecurity and from all kind of ideas as changing of career, coming back to Costa Rica and leaving it all ….all my dreams and goals.

I decided to take a break in November, 2021. I went back to Costa Rica during 1 week, knowing that I was not going to be payed and that I needed to do a quarantine afterwards. My parents faces, my brother and her new girlfriend, how everyone missed me so much and how I missed them too. Slowly everything eased and I founded myself smiling and dancing again. This is when everything did « click » and all the lost peaces of my mind got together in my life again. I felt aware, conscious and grateful for being in this world with my family.
What a big push to continue and realize how everything that I wanted was was to scape from this stressful situation… living in another country, having my family far away, not being able to work in « normal conditions » and not having any social life anymore. But, wait a minute, I was never a quitter, but life taught me that we do need to go back, get touched by our roots and have that pause in life… so necessary. Life give us a billion reasons how to be stressed-out but we are the only ones who can change how we react to all life situations. And I changed, I changed for good, I was ready to start attracting positive people, positive situations, stop the rude thoughts and being kind with myself. And actually this new journey is what I want to start sharing and hopefully fill others with positive vibrations and stories.
Before finishing, I wanted to go back to one of the most precious professional moments of my life < interventional radiology > : One year ago during my specialized internship, meanwhile I was washing my hands before going to one of my favorites procedures < coiling an intra-hepatic shunt > I cried of happiness, and that euphoria is the feeling that keeps me alive. This is where I have to be. This is where I belong. This is where I am good. And this is why this little lion is not giving up never again.
— Here is where I will share about veterinary, healthy life style, organization, veganism and low waste living —

This is me The Positive Lion from now on.